Last year, the VOW Education Program launched the Sharing History Initiative to support passionate and underfunded teachers, storytellers, and community leaders in bringing social justice-based storytelling into their communities.
Today, we're thrilled to announce that thanks to the generosity of the Germanacos Foundation, we are now able to provide specialized support to select Sharing History participants through a newly established fellowship.
The Germanacos Fellowship for Sharing History allows us to help this small group of teachers, storytellers, and community leaders explore groundbreaking new projects, complete or enhance ongoing projects, and push the boundaries of oral history-based storytelling. Fellows were selected based on criteria including classroom or community need, a demonstrated commitment to advocacy, innovation, and creativity, and the capacity for building empathy-based learning experiences.
Germanacos Fellows will receive:
$1,000 to cover project expenses
15 hours of direct support time from the VOW education staff and learning community
Opportunities for collaborative learning and professional development within a small, tight-knit cohort of Germanacos Fellows
See what this year's fellows have to say about what oral history education means to them and their students:
Von Torres, Clovis Community College, Fresno, CA
"When I have used oral history storytelling in my classrooms, the stories students discover is inspiring to me because students learn something new about an individual with whom they have a close bond and they are able to write counter-narratives for underrepresented and misrepresented individuals, groups, and communities."
"For me, oral history storytelling is a means of liberation from our silences and our traumas. And as a person of color born in an immigrant family and living in the world we live in today, our stories matter so much and if we do not share them and document them, then who will?"
Elizabeth Tidrick, Monte Del Sol Charter School, Santa Fe, NM
"What inspires me about oral history storytelling is the way that my students (8th and 10th grade) finally feel heard by their community… When you think about it, children almost never get a chance to have their voices heard. In the craziness of everyday life, no one has the time to listen to them.
For me, the bottom line benefit of oral history storytelling for students is the self-realization and validation of personhood that occurs. This type of empathy based education is crucial in this day and age."
Maria Rivera, Pilsen Elementary Community Academy, Chicago, IL
"My work as an educator is driven by a desire to use development of language and storytelling to give students and community voice and agency. I want to encourage and grow histories by and for young people and their communities by giving them better vehicles to share them, on their own terms."
"There is something quite exquisite about a person telling their story in their own voice. There is a human connection that attaches the heartbeat, heard and felt, to the spoken syllable. I believe the power to connect folks lies here."
Tina Eng & Samved Sangameswara, Arroyo High School, San Lorenzo, CA
"So often as an English teacher I come across students who say they are 'bad writers' but are incredibly articulate and engaging when they are asked to tell stories from their own lives in the spoken word.  I think oral histories help bridge a gap between the speaking our students engage in so willingly and the writing that they are sometimes more reluctant to do." —Samved Sangameswara
Lisa Thyer & Chris Wendelin, Amos Alonzo Stagg High School, Palos Hills, IL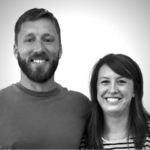 "Two years ago, we experienced stories' ability to heal and help bring our school community together in a time of loss, and just this past year with our Voice of Witness class, we saw oral history storytelling bring change to our students and school community on many levels. Our students became more empowered and engaged … We also watched them change as individuals, growing in maturity and empathy from the impact of the interviews themselves… In continuing Stagg's own Voice of Witness class for a second year, we hope to continue to build from the momentum Voice of Witness was so integral in helping us achieve with our book of oral histories."
Congratulations to the 2016-17 Germanacos Fellows, and tremendous thanks to the Germanacos Foundation for enabling us to support and collaborate with this stellar group of educators and storytellers.