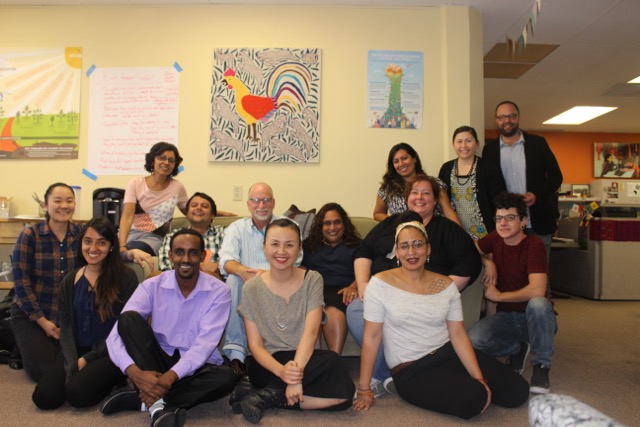 Voice of Witness and Thousand Currents (formerly IDEX) staff at the Thousand Currents office in San Francisco, CA during a two-day oral history training and book planning session.
On July 27 and 28, the VOW editorial and education staff met with the staff of Thousand Currents (formerly IDEX) in San Francisco, CA to start planning a new book project, Holding Our Ground: Voices for Food Sovereignty.
For over 30 years, Thousand Currents has supported grassroots, community-led projects led by women, youth, and indigenous people in Africa, Asia, and Latin America. The upcoming collaboration with VOW takes on food sovereignty, an issue core to their mission of alleviating poverty and injustice.
What is food sovereignty?
The ability of a nation or group of people to feed themselves is an issue of fundamental human rights and autonomy (see Article 25 of the Universal Declaration of Human Rights).
Advocates of food sovereignty put the people who produce, distribute, and consume food at the center of decisions on food systems and policies, rather than the demands of markets and corporations.
Food sovereignty suggests that people have a right to choose what food they eat, where it comes from, and how it is grown. The issue is deeply connected to the resilience of communities, and offers a model that could provide meaningful solutions to the climate crisis we face. (Learn more about food sovereignty on Thousand Currents' website.)
The book: Holding Our Ground
Holding Our Ground: Voices for Food Sovereignty will explore the human rights crises that emerge when communities lack control over the foods they produce and consume. The narratives will come from South Africa and Zimbabwe, where international aid is largely focused on increasingly intensive agricultural practice as a means of addressing hunger, while numerous communities struggle for local control of food production and sustainable agricultural practices.
Here's what their communications director Jennifer Lentfer has to say about the collaboration:
"Oral histories are a powerful way to uphold and amplify the deep knowledge, strength, and determination of small-scale farmers in Africa. Everyone—farmers, donors, leaders—needs an accurate understanding of food sovereignty and how to respond. They should no longer only hear about small-scale farmers in Africa, but from them. We're excited to work with Voice of Witness to ensure people are no longer left out of their own stories."
Mapping out the project
During the two-day training and planning session, VOW and Thousand Currents met to discuss interview and oral history methodology, the goals of the project, and the nuances of the food sovereignty movement in the Global South.
Day one focused on training Thousand Currents' staff in VOW's methodology, including the ethics of oral history story gathering as well as interview and editorial methodology. The group practiced generating open-ended interview questions, and each participant got to assume the role of both interviewer and narrator during practice interviews.
On day two the group began drafting the book production plan. They discussed the goals and timeline for the book and whose stories might be included. Possible narrators include small independent farmers, NGO workers who have been champions for food sovereignty, land owners, and public health officials.
The group was especially excited about the education component of the book. The VOW education team writes curricula for all the books in the VOW series, and the Thousand Currents team sees this as an opportunity to educate the broader public about what food sovereignty is and how it can help address climate change.
Over the next few months, Thousand Currents will work to develop its list of potential narrators and develop logistical plans. Initial interviews are likely to begin at the start of 2017.
Holding Our Ground is one of six projects currently incubating in the VOW Story Lab.