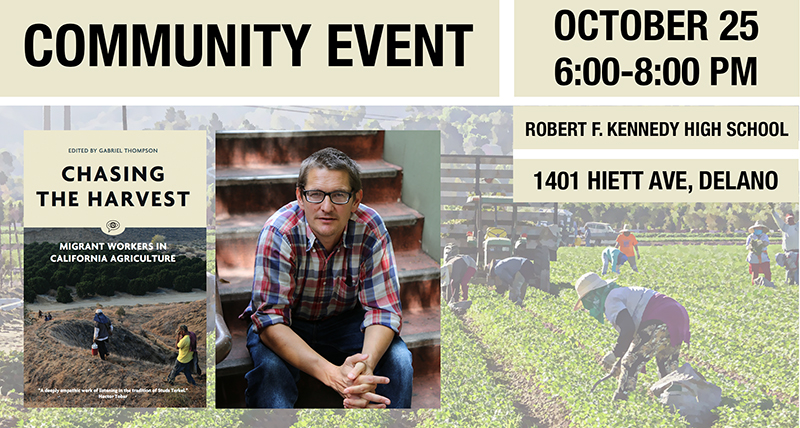 EVENT
Chasing the Harvest and Digital Delano
Wednesday, October 25, 2017  |  6:00pm – 8:00pm
Robert F. Kennedy High School (View map)
1401 Hiett Ave
Delano, CA 93215
Free
The Voice of Witness education team is partnering with Professor Oliver Rosales of Bakersfield College to present a community event celebrating Larry Itliong Day and Chasing the Harvest: Migrant Workers in California Agriculture in Delano, CA.
Book editor Gabriel Thompson, narrator Heraclio Astete, and former local farmworker Maria Casillas will participate in a reading and panel discussion facilitated by Octavio Barajas. This bilingual event will include interpreters for Spanish and English.
Dr. Rosales and his students are working on Digital Delano, a web-based archive containing stories from Delano locals describing a family historical artifact. This team will be available in the hour before the event (5:00-6:00pm) to record your story!
RSVP on Facebook and email edu@voiceofwitness.org with any questions.