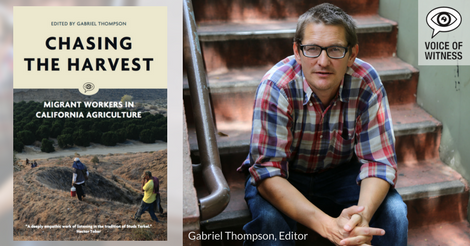 EVENT
Gabriel Thompson Discusses Chasing the Harvest at Copperfield's Books
Saturday, June 17, 2017  |  7:00pm
Copperfield's Books, Sebastopol Store (View map)
138 N. Main Street
Sebastopol, CA 95472
Free
RSVP on Facebook  |  RSVP on Eventbrite to receive 10% off the book at the event
Gabriel Thompson will visit Copperfield's Books to discuss Chasing the Harvest: Migrant Workers in California Agriculture—VOW's new anthology of oral stories about the hardships, bravery, solidarity, and creativity experienced by migrant farmworkers. Although national attention has historically been drawn to their plight, the tales of the more than 800,000 men, women, and children who work in our fields—one third of the nation's agricultural work force—are rarely heard today, despite the persistence of wage theft, dangerous working conditions, and uncertain futures.
RSVP on Eventbrite to receive 10% off the book at the event.
RSVP on Facebook. More info on the Copperfield's website.