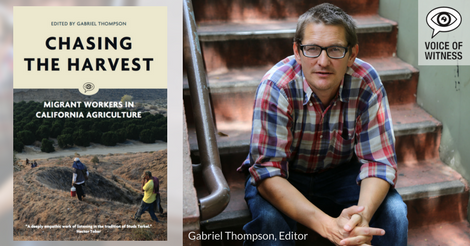 EVENT
Book Launch with Gabriel Thompson, Editor of Chasing the Harvest: Migrant Workers in California Agriculture
Tuesday, May 23, 2017  |  7:30pm – 10:30pm
Green Apple Books on the Park (View map)
1231 9th Avenue
San Francisco, CA 94122
Free
Join us in celebrating the launch of one of our newest books!
Editor and award-winning journalist Gabriel Thompson will discuss Chasing the Harvest: Migrant Workers in California Agriculture (on sale May 16, 2017 with Verso Books). Gabriel will be joined by one of the book's narrators, Oscar Ramos, who grew up in a family of migrant farmworkers and is now a teacher in East Salinas, the heart of the city's farmworker community.

The event will feature a reading and Q&A with Gabriel, Oscar, and VOW staff.
About Chasing the Harvest:
The Grapes of Wrath brought national attention to the condition of California's migrant farmworkers in the 1930s. Cesar Chavez and the United Farm Workers' grape and lettuce boycotts captured the imagination of the United States in the 1960s and '70s. Yet today, the stories of the more than 800,000 men, women, and children working in California's fields—one third of the nation's agricultural work force—are rarely heard, despite the persistence of wage theft, dangerous working conditions, and uncertain futures. This book of oral histories makes the reality of farm work visible in accounts of hardship, bravery, solidarity, and creativity in California's fields, as real people struggle to win new opportunities for future generations.

Early Praise:
"Chasing the Harvest is a deeply moving tribute to the lives of California farm workers…. Thompson has given us a deeply empathic work of journalism and listening in the tradition of Studs Terkel." —Héctor Tobar, NY Times bestselling author of Deep Down Dark
"Chasing the Harvest not only gives voice to farmworkers who are all too often invisible, it does something more. Cumulatively, these portraits form a nuanced mosaic of life in the fields—the good, the bad, the mundane, the tragic and the heroic." —Miriam Pawel, author of The Crusades of Cesar Chavez: A Biography
"The voices are defiant and nuanced, aware of the human complexities that spill across bureaucratic categories and arbitrary borders." —The Baffler
RSVP on Facebook. More info on the Green Apple website.