HOW IT WORKS
Our regular offerings include oral history trainings, workshops, and curricular support to a wide variety of educators, storytellers, organizations, and social justice advocates. We also offer a limited number of consultancy engagements for clients seeking more in-depth support.
Each consultancy is tailored to the client's needs, which might include using storytelling to empower the constituents they serve, learning how to best understand and share their organization's work, or developing specific storytelling projects.
Our client partners include national youth education organizations, mental health practitioners, museums, and philanthropic organizations.
For more information, please contact Education Program Director Cliff Mayotte.
RATES/SERVICES
In an effort to be as inclusive as possible, our fee for service operates on a sliding scale. We ask that participants or their supporting schools and organizations contribute at whatever level their budget allows. This allows us to work with a broad spectrum of teachers and learners.
Copies of Voice of Witness books: $16 per book
Copies of The Power of the Story (curriculum guide): $16 per book
Educator support: (two hours of curricular planning via phone, email or in person): $200
Single class visit (60-90 minutes, includes planning, materials, and transportation*): $400
Half-day class visit (two classes of 60-90 minutes + prep): $700
Day-long site visit (three classes of 60-90 minutes + prep): $1,000
Tailored Consultancy (planning, materials, transportation and facilitation): Determined on a case-by-case basis. 
---
*Transportation costs for out-of-state engagements require additional funds for travel and accommodation
ANNUAL SUMMER WORKSHOP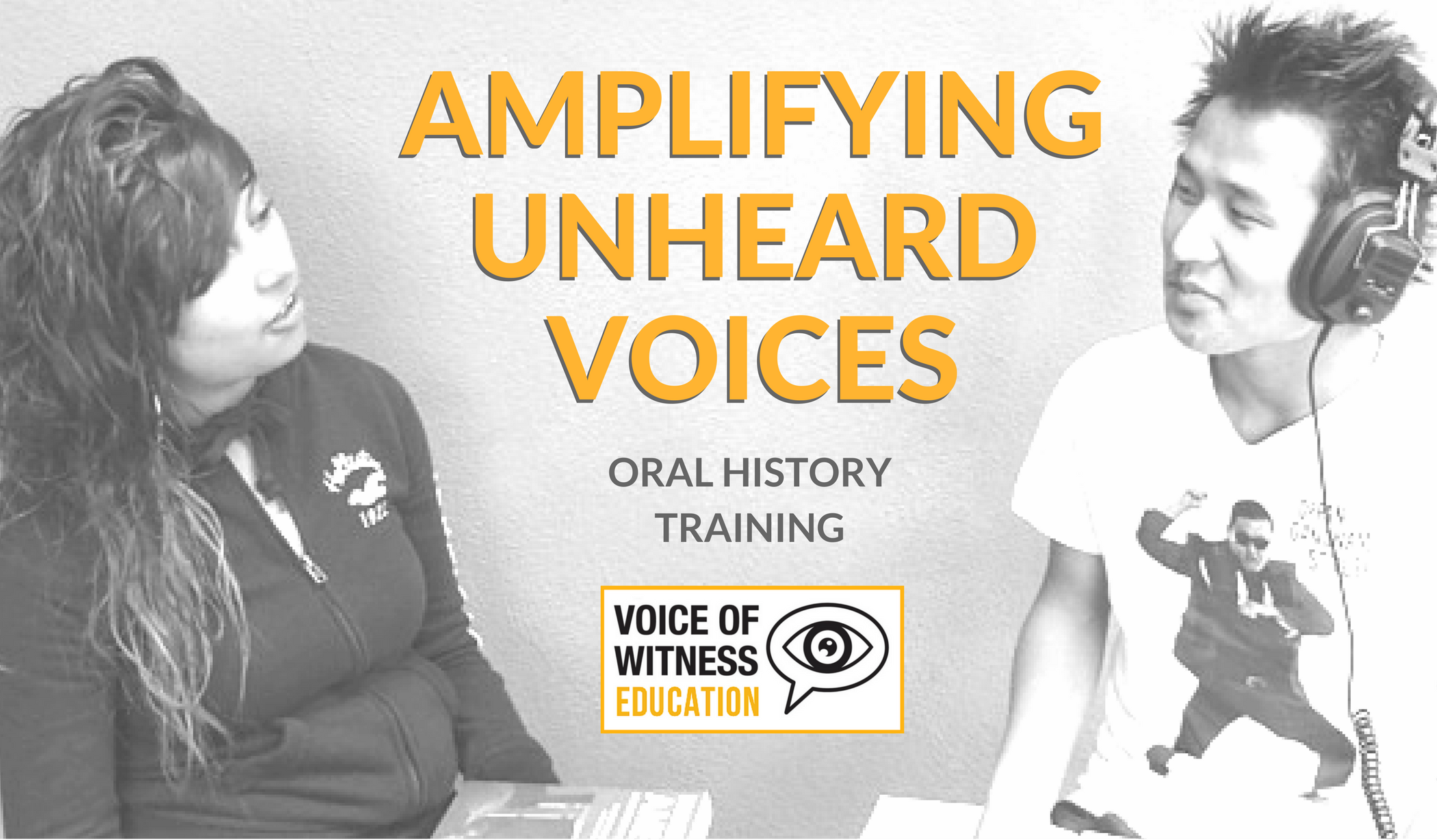 Interested in oral history storytelling? Join us for our annual Amplifying Unheard Voices Oral History Training.
This unique four-day workshop highlights the power of personal narrative and provides educators, storytellers, and social justice advocates with the tools to conduct oral history projects in their classrooms and communities.
HEAR/SAY
UCSF MEMORY AND AGING CENTER
A Book of Stories about Aging, Dementia, Art, & Life
Facilitators: UCSF MAC & VOW EDU
STAGG VOW
AMOS ALONZO STAGG HIGH SCHOOL
An Oral History Class & Educator's Toolkit
Teachers: Lisa Thyer & Chris Wendelin