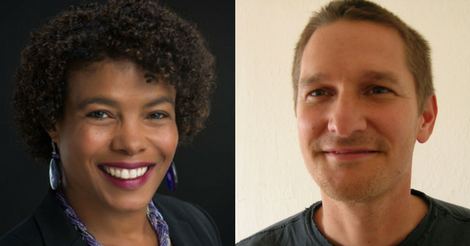 Immigration expert Terri Givens (left) and labor journalist and VOW editor Gabriel Thompson (right)
Gabriel Thompson, editor of the VOW title Chasing the Harvest: Migrant Workers in California Agriculture will be in conversation with Angie Coiro and Terri Givens on In Deep Radio at Kepler's Books in Menlo Park, California.
Event Description:
Donald Trump's changes to immigration policy, initially supported by a majority of Americans, have faced steadily increasing disapproval. Despite that, the administration has moved to widen scrutiny to include tourists, business travelers and relatives of American residents. All this, even as construction contractors bid for contracts to build a wall on America's southern border.
From its initial Muslim-targeting efforts thrown out by a court, to a second version designed to circumvent those objections, to this latest expansion—what are the real goals of the administration's policies? Are they equitably applied? Can they be? And away from the airports, the borders and the courtrooms, how do the policies play out in the real lives of laborers in America?
In Deep takes a two-pronged approach this hour, with guests Terri Givens and Gabriel Thompson. Terri Givens is provost of Menlo College, and an authority on immigration policy and its impact. Gabriel Thompson is the editor of an upcoming oral history documenting the stories of migrant workers in California; Chasing the Harvest: Migrant Workers in California Agriculture will be released this Spring.